Product Description
X-ray baggage scanner
X-ray penetration inspection reveals the metal structure inside the object and can show places that are invisible to the naked eye. Applicable to factory inspection products and public security inspections of institutions such as electronics factories, shoe factories, toy factories, courts, stations, and security bags.

Walk through metal detector
Fireproof,waterproof ,and shockproof. It can exactly detect the location of metals that walk through person takes. Especially designed for factory ,Exhibition Areas for outdoor check,such as hardware and Electronic manufacturer check if the person steal the metals, or apply for large public events, check the person if take leather weapons.

Overview
Quick Details
Place of Origin:Guangdong, China (Mainland)
Brand Name:MCD
Detection mode:x-ray top shine detecting
conveyor max load:220kg
conveyor speed:0.2m/s
steel penetration:40 mm metal line
power wastage:1kw(max)
warranty:2 year
Tunnel Size:800(W)*650(H)MM
Maximum leakage radiation:<0.05uGy/h
Noise:<58 dB
System Power:220AVC/50Hz
Packaging & Delivery
Selling Units:Single itemSingle package size: 200X120X175 cmSingle gross weight:525.0 kgPackage Type:wooden case packageLead Time :
Quantity(Piece) 1 - 1 2 - 10 11 - 30 >30
Est. Time(days) 7 25 45 To be negotiated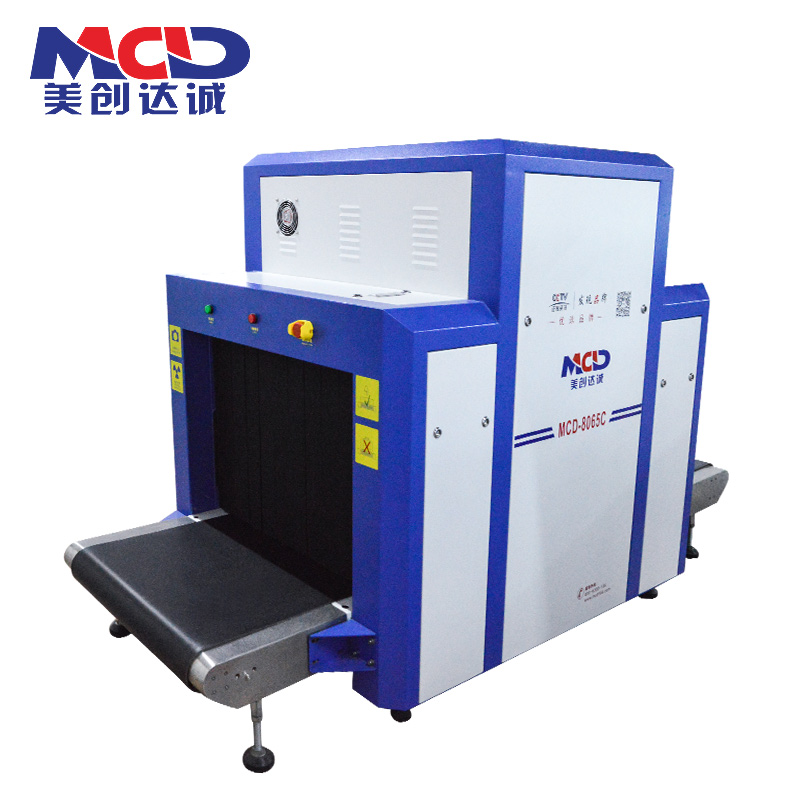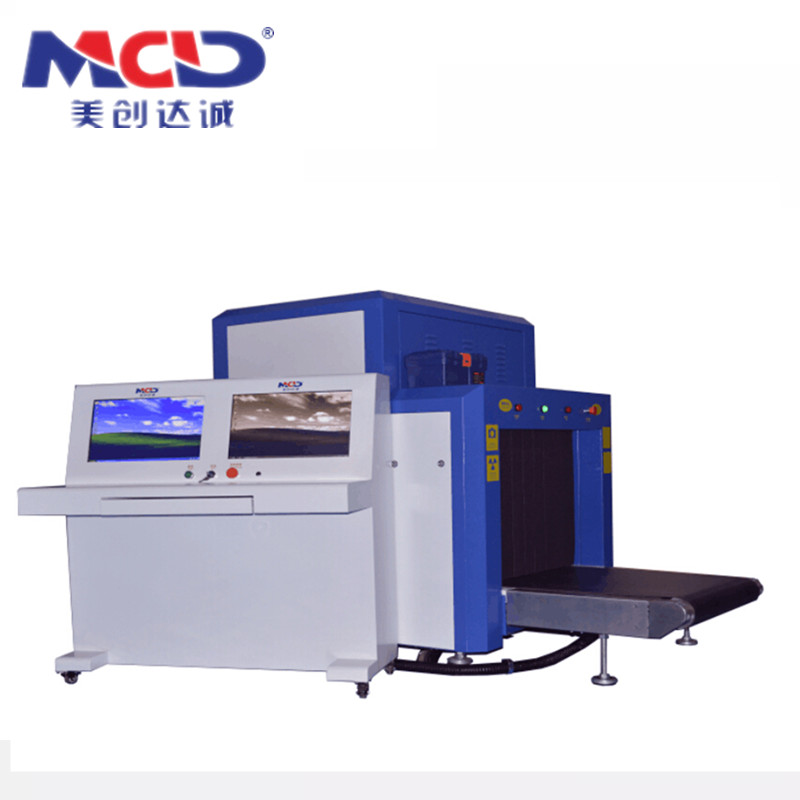 Image processing system
1. X-ray sensor, L-shaped photodiode array detector, 16bit precision, high energy / low energy two energy switching display
2. Multi-energy color, organic matter is shown in orange, inorganic is shown in blue, mixture is shown in green, unidentified area is shown in black
3. High-definition image, clean background, clear outline, strong stereoscopic effect, solid imaging surface is clean and realistic
4. Increase the infrared energy-saving system, the edge enhances the contour of the object, the image details are clearer, the magnifying glass is partially enlarged, and it is easy to penetrate
5.Independent console, easy to read, can be separated from the host by a maximum distance of 2.5m, 19-inch high- resolution display
6. Adopt network port transmission technology to improve information transmission speed, low-channel security check over package, automatic conveyor belt running, more convenient to use
Clear image
Metal, liquid, bag, etc. when passing the security check
Network interface, can connect to LAN, multiple terminals check baggage at the same time
X-ray lamp safety, automatic emission control, avoiding false emission
Simple and convenient to operate, with pulleys, easy to check the security machine at any time, no space
Workshop scene real shot
Shenzhen Mei Chuang Dacheng Security Inspection Equipment Co., Ltd., a well-known security inspection brand in China, a support enterprise of the Guangdong Provincial Government, and an independent innovation enterprise in Shenzhen. Currently, there are more than 30 branch divisions and distributors in the country, which is focused on the development and production of security inspection equipment. And sales as one of the leading enterprises.
Shenzhen Meichuang Dacheng Security Inspection Equipment Co., Ltd. mainly produces: channel X-ray machine, security door, hand-held metal detector, vehicle inspection mirror, food metal detector, underground metal detector, liquid safety detector, explosives (drugs ) Detector, anti-cheat series in the examination room, etc. Meichuangcheng security inspection equipment is widely us