Product Description
Non Ferrous Metal Detector/Buy Metal Detector MCD-F500QD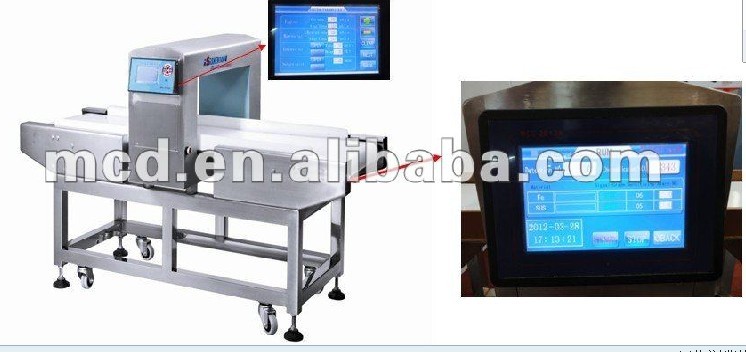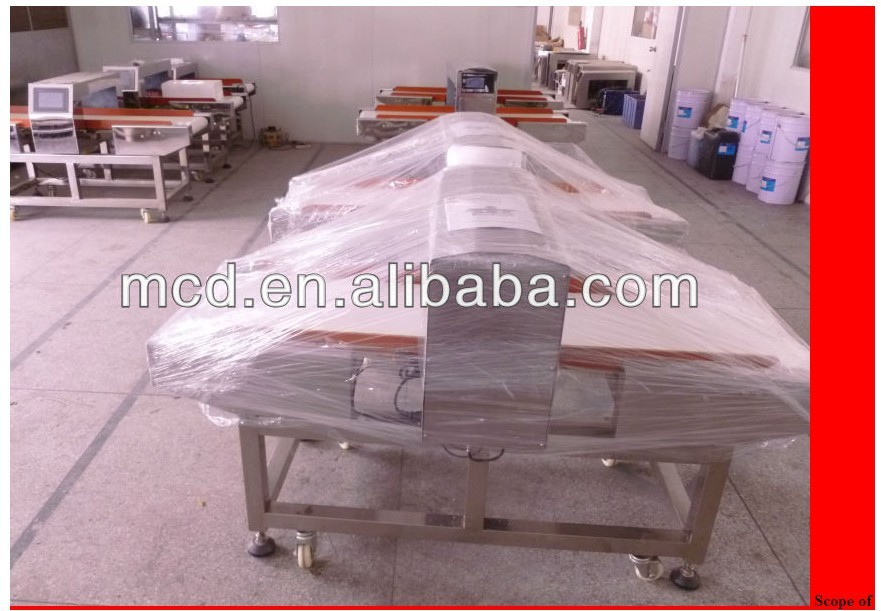 Scope of application
MCD-F500QD metal detection machines used mainly for food and other requirements of high
detection sensitivity of the industry, for the detection of inclusions or lost in the raw materials or
products of Broken Needle, wire or lead, copper, aluminum, tin, stainless steel and other metal .
Performance:
1. Dual-loop design, can be detected separately iron and non-ferrous metal impurities, the high
detection sensitivity can be separately adjusted to operate a very convenient and can detect food
packaging aluminum platinum.
2. Conveyor and pallet assembly used in the U.S. "FDA" standards of white non-toxic materials.
3. Detection accuracy over the corresponding provisions of HACCP system Detect indicators.
4. Can and weighing machines, sorting machines combination to form a pipeline automatically
detects weighing.
5. Production line can be used to connect supporting the implementation of automatic detection
pipeline.
6. Monitor the use of sound and light alarm, automatically exclude or shutdown, the operational
use of extremely reliable and user-friendly.
7. Machine using stainless steel material, anti-corrosion, easy to clean (which can be required
in accordance with the ordinary customers of steel stainless steel materials may be appropriate
to reduce costs).
PERFORMANCE:
Detection style: digital intelligent with LCD display
Language : chinse, English,
Motore power: 200w/400w
The main material: SUS 304
Specification parameter:
| | | | | | |
| --- | --- | --- | --- | --- | --- |
| Dimension of window: | 25cm×30cm | 30cm×30cm | | | |
| Sensitivity Fe: | ≥0.7mm | ≥1.2mm | | | |
| SUS304 | ≥1.2mm | ≥1.5mm | | | |
Speed of transmission: 18-40 meter/minute
Normal height of inspection windowcm:10
Normal width of inspection windowcm:30
Alarm: Audible and visual with automatic stop
Can install with the auto-rejection equipment according customers requirement.
Power: AC110V/220V/380V 50/6 0Hz.
Note: The above sensitivity judged by the machine without bearing any parts, the actual detection sensitivity has relation with the nature and the temperature of the products etc., the different types of detection which the sensitivity of metal detectors is different too, the actual detection sensitivity should be at the base of the test-block verification