Product Description
Instruction:
The MCD-2002 is used for security of airport,station,port,prison,custom,police,border security etc security departments;Quality inspection of drug,food,commercial systems etc;and check for precious (like factory made gold and silver) and important places(For example:sports meeting,KTV etc).
Product Parameters:
1.Alarm Indication : Audio alert and LED indicator and vibration
2.Sensitivity :≥5cm(for a RMB one YUAN Coin)
3.Power Supply:9V fold battery (6F22ND),can connect with recharger,( 57125844,recharger is optional accessory )
Quiescent Current :<11.0mA
4.Operation Current:Audio and LED<56mA ,Vibration<90mA
5.Body Size:420*145*40mm
6.Net Weight: 218g Gross Weight:330g Color Box size:445*155*50mm
7.Package Size:48.5*33*46cm (20pcs/carton,8.5kg/carton)
Application:
small and simple,round detector head can exactly detect the location of metal, be used for wood ,school or factory where need not high sensitivity security check
Feature:
1, cycle switch to switch sound alarm and vibration alarm
2, high sensitivity, can detect ferrous and nonferrous metals. Easy to use and adjust.
3. Sound (or vibration) and light alarm simultaneously to detect metal
4, alkaline batteries alarm ratio of 10% -15%, can work continuously for more than 40 hours.
5, It will automatically continuous alarm if the battery is in station of undervoltage.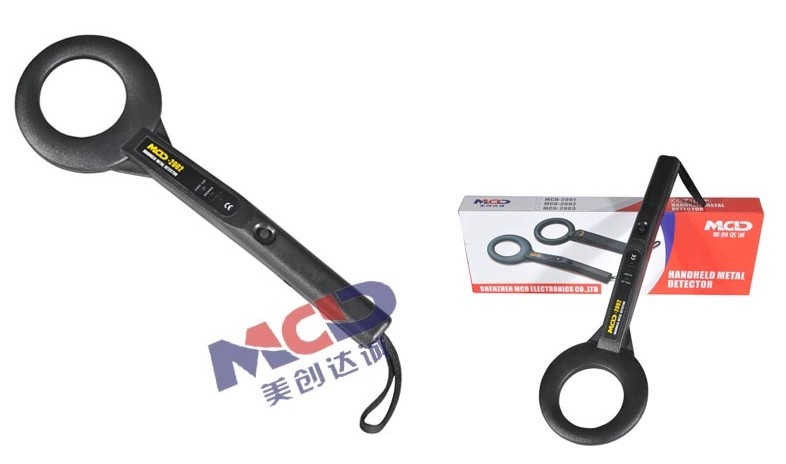 Our Services
1.Sample available
2.OEM
3.Inmidiately delivery after payment
4.One year warranty