1.OEM service.
2.Made in Manufacturer.
3.Ultra sensitivie
MCD-500 6/18 DETECTION ZONE BIG LCD SCREEN WALKTHROUGH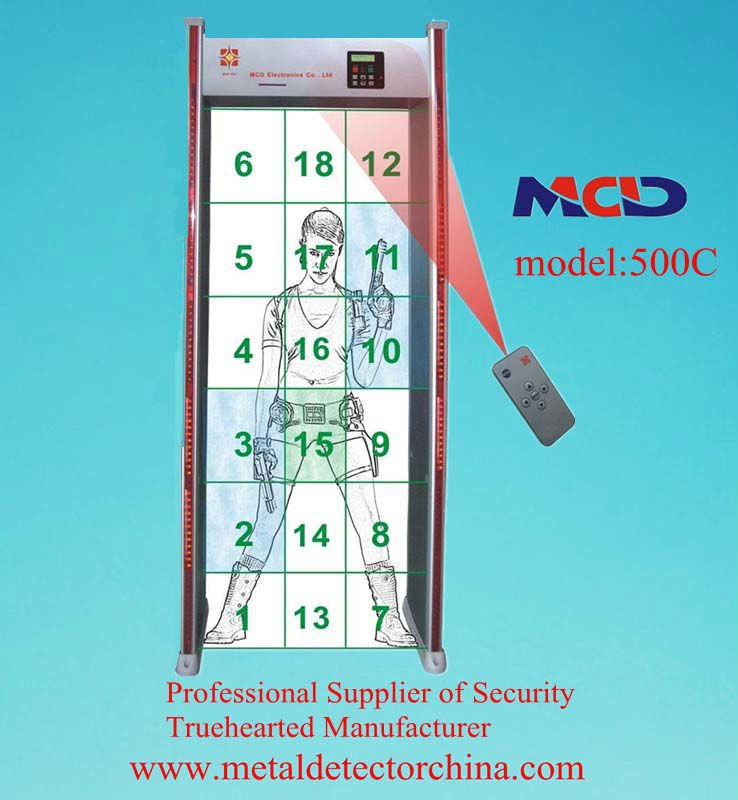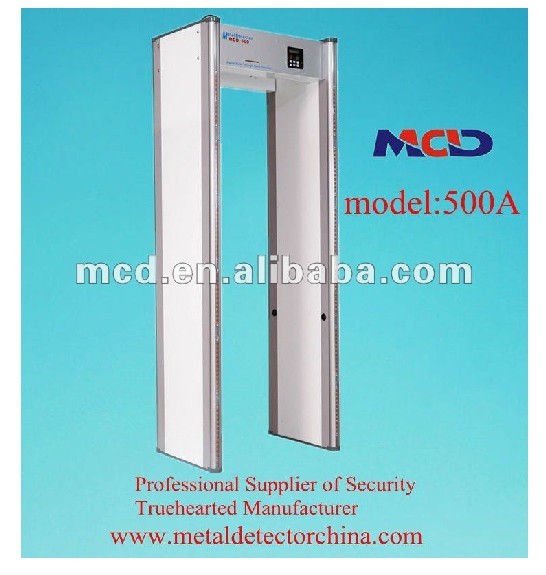 MCD-500 Walk Through Metal Detector
MCD-500 BODY SCANNER are expecting for exports security door,
It is with fireproof,waterproof,and shockproof,
Multi-zone alarm,LCD panel display,totally English Menu,
This type of walk through metal detector can prestore three type of different models ,
This door divide people with 6/18 zone, better sensitivity,
When the human body to carry metal items can be generated through the alarm device, can accurately detect people or hand-carried in body bags of metal objects or metal objects, such as various control tools, weapons, metal products, electronic products and other metal articles, etc., used to carry out safety inspection, anti-theft examination an effective tool, mainly used in government agencies, public security organs, prosecution, courts, prisons, detention centers, customs, airports, stations, stadiums, exhibition venues, entertainment, large gathering places, etc., as well as hardware, electronics, jewelry, military, Mint factories or businesses.
Main Features:
· Precise positioning: average distribution of six independent detection regions to detect the targets
· This type of walk through metal detector with the function of waterproof,shockproof.
· With remote control operation , so it is more easy for clients operate ,
· Four pair of infrared emission and the receiver to prevent detection blind spot.
· Sound and light simultaneously alarm ,the panel LCD panel
Totally English menu,
· Modular design: convenient installation and easy to rule out failure.
· Self-diagnosis functions: built-in self-diagnostic procedures, power-on self test,
· Microprocessor technology: more flexible control , the control panel can programme all the parameters default to match the users' requirements
· Complex circuit design, infrared devices, computer automatic identification, can effectively reduce false positiions and omissions
· DSP digital signal processing filter systems: have excellent anti-electromagnetic interference capability and strong resistance to touch, so can deal with the occasion of crowed pass through
· Adjustable sensitivity: Each detection region has 100 sensitivity level may require adjustment in accordance with the appropriate detection sensitivity.
· Can automatically measure and display the interference of the surrounding environment to help to select the installation site.
· Password-protected settings: Only allow the professionals to modify the parameters
· Complied with current international safety standards, the use of weak magnetic field emission technology , has no harm to pacemakers wear Persons, pregnant women, floppy disks, video tapes etc.
Technical parameters
· standard: "GB 15210-1994. Through-type metal detector door general technical conditions" national standards.
· detection procedures: 100 sensitivity adjustment may be required on different occasions to meet separately.
· basic safety: meeting the requirements of GB4793.
· personal safety: Satisfied NILECJ-0601.
· through rate: more than 60 million / per minute.
· Power: 220V/110V AC, 50/60Hz.
· Power: 35VA.
· working environment: -10 °C ~ 45 °C, ≤ 95% RH.
· Overall dimension: 2220 mm (high) × 820 mm (width) × 500 mm (deep).
· Channel Size: 2000 mm (high) × 700 mm (width) × 500 mm (deep),
Certification
With ISO9001:2008 International Quality System Certification
Our Factory is below to Guangdong Government Support Enterprise
With Imports and Export Right
CE certification
With Chinese Security Inspection Report